12 colors || 12 weights || 16 Badges
Case Options

Ice Crystal and Synth Weights

Aluminum and Stainless Steel Weights

Badge and Screen Bezels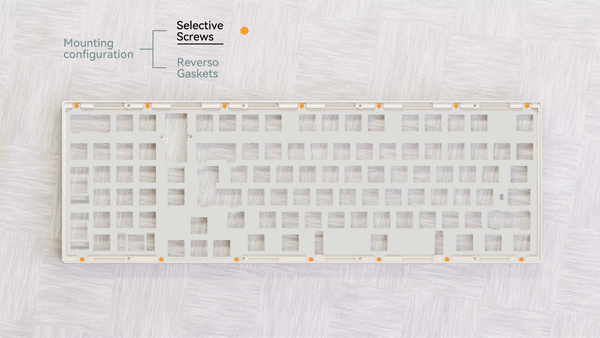 Dual Mounting System
Supports both top-mount and PCB gasket-mount
Adjustable gasket hardness levels
Support Plateless build with Solder PCB
Switches + Keycaps Bundle Available!
- Choose your favorite keycap kit out of 4 opions
- QK01 Switch
Plates and PCBs are not included
FAQ
Do I need to purchase a Daughterboard for my QK100?

No, the daughterboard is an extra. The barebones kit comes with one.

Check out 'What's in the box' for more information.
Does the bundle include a plate and PCB?

No, do remember to check out with your preferred plate and PCB of choice.

A plate and a PCB is required for the board to be functional.
Can I build the QK100 plateless?

Yes, however, we only recommend building the QK100 plateless with a solder PCB.
When will I receive my order?

ETA: Oct - Nov 2023

Subjected to delays.
When does the Group Buy end?
What do I need in my order?

You will require either of these options:

1) Case Only + 1 PCB + 1 Plate

2) Bundle + 1 PCB + 1 Plate

Feel free to add on any additional PCB and Plates as you like.