Neo65 Kit
Regular price
$127.00 SGD
Regular price
Sale price
$127.00 SGD
Unit price
per
Sale
Sold out
Note:
Oxidation of brass and copper weights is unavoidable due to the characteristics of these materials. If you are concerned about this, please choose the PVD stainless steel weight instead.
Chroma and Dusk are random mixes of gradients, so the result on each unit may vary.
The tri-mode PCB on this sale page comes with a pair of 2200mAh batteries.
If you want to edit your Neo65 specs, please do not edit the quantities in the shopping cart. Instead, visit the product page and "add to cart" again.
All PCBs are QMK-based and support VIA.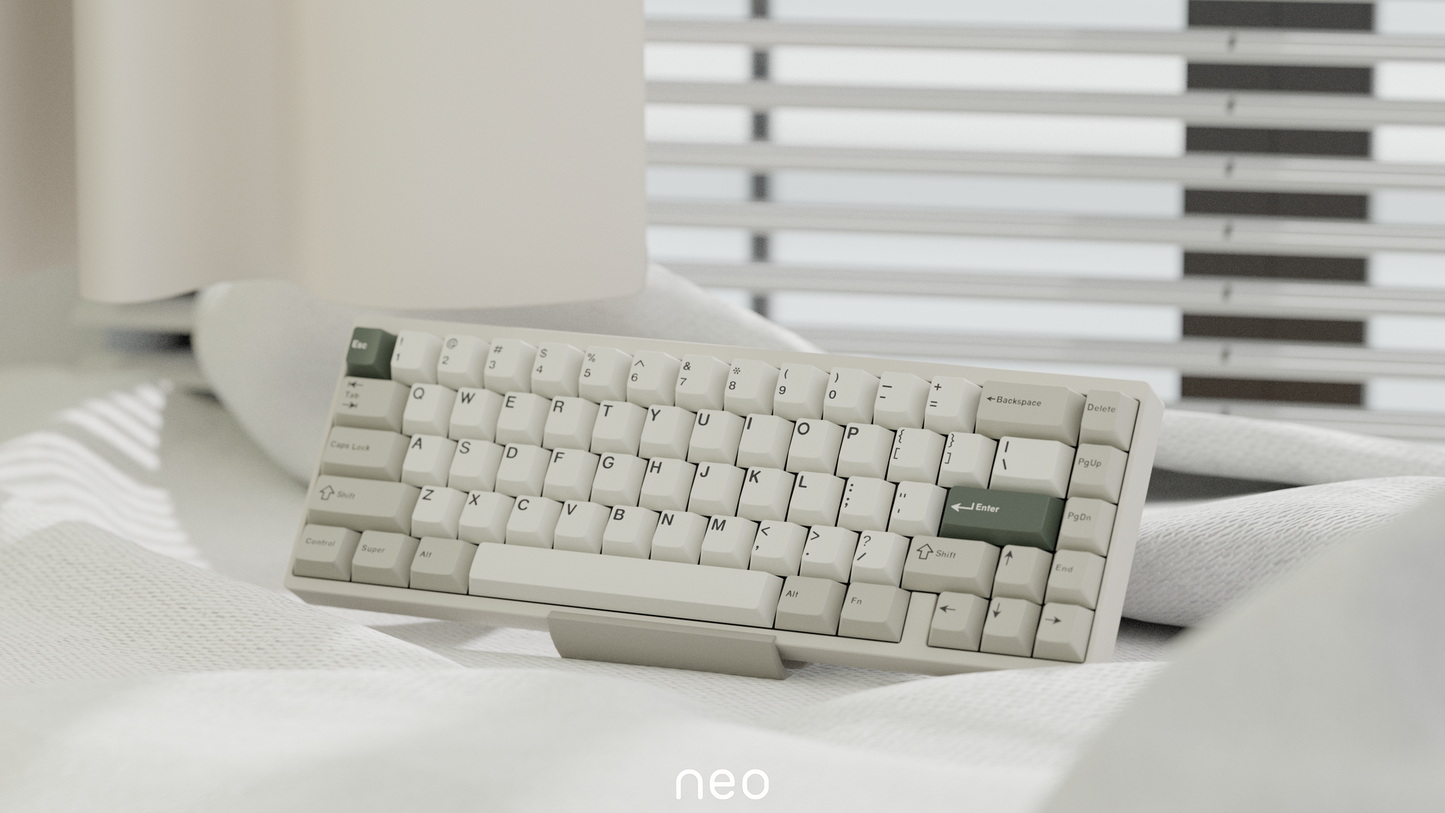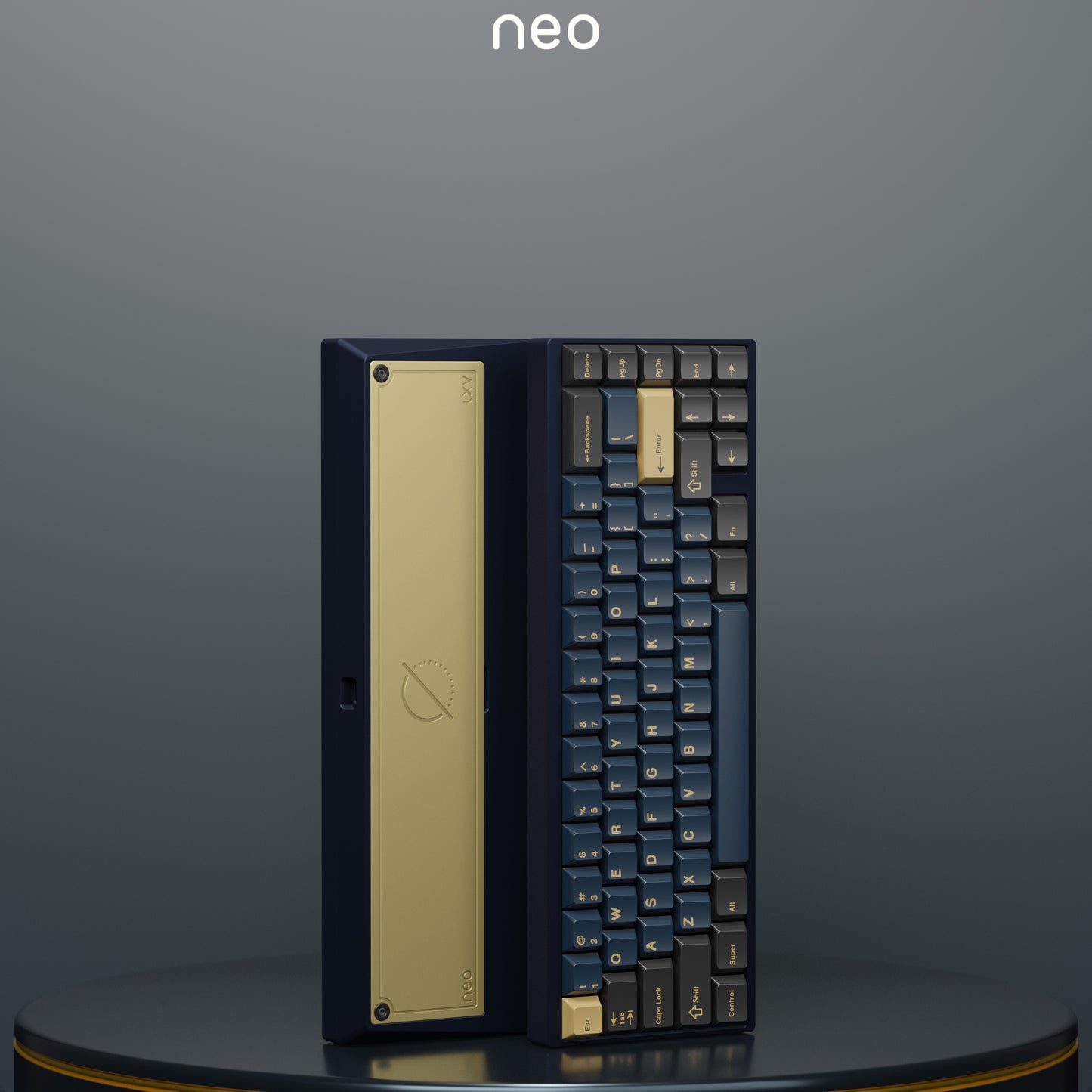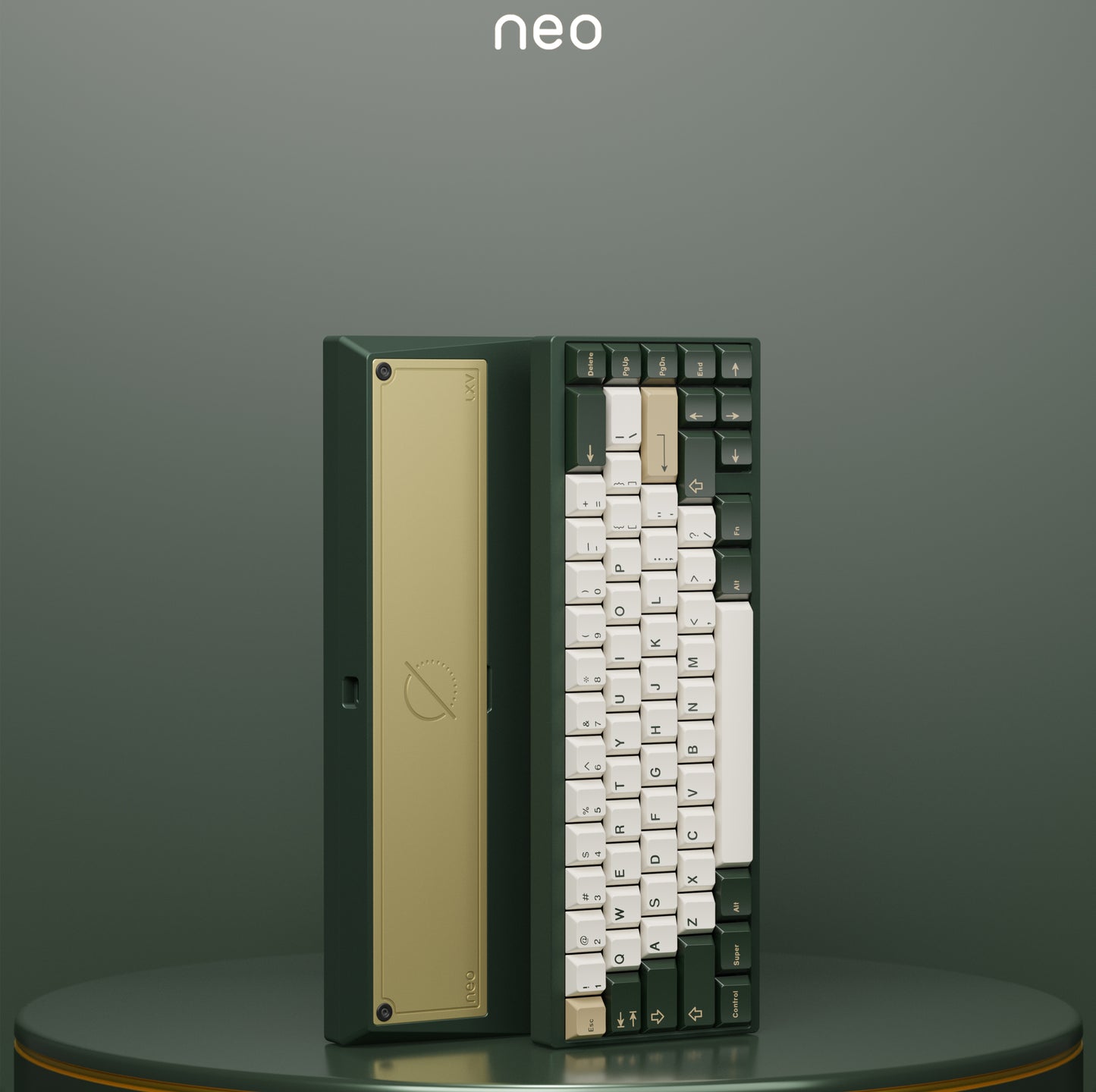 Case Options

Weight Options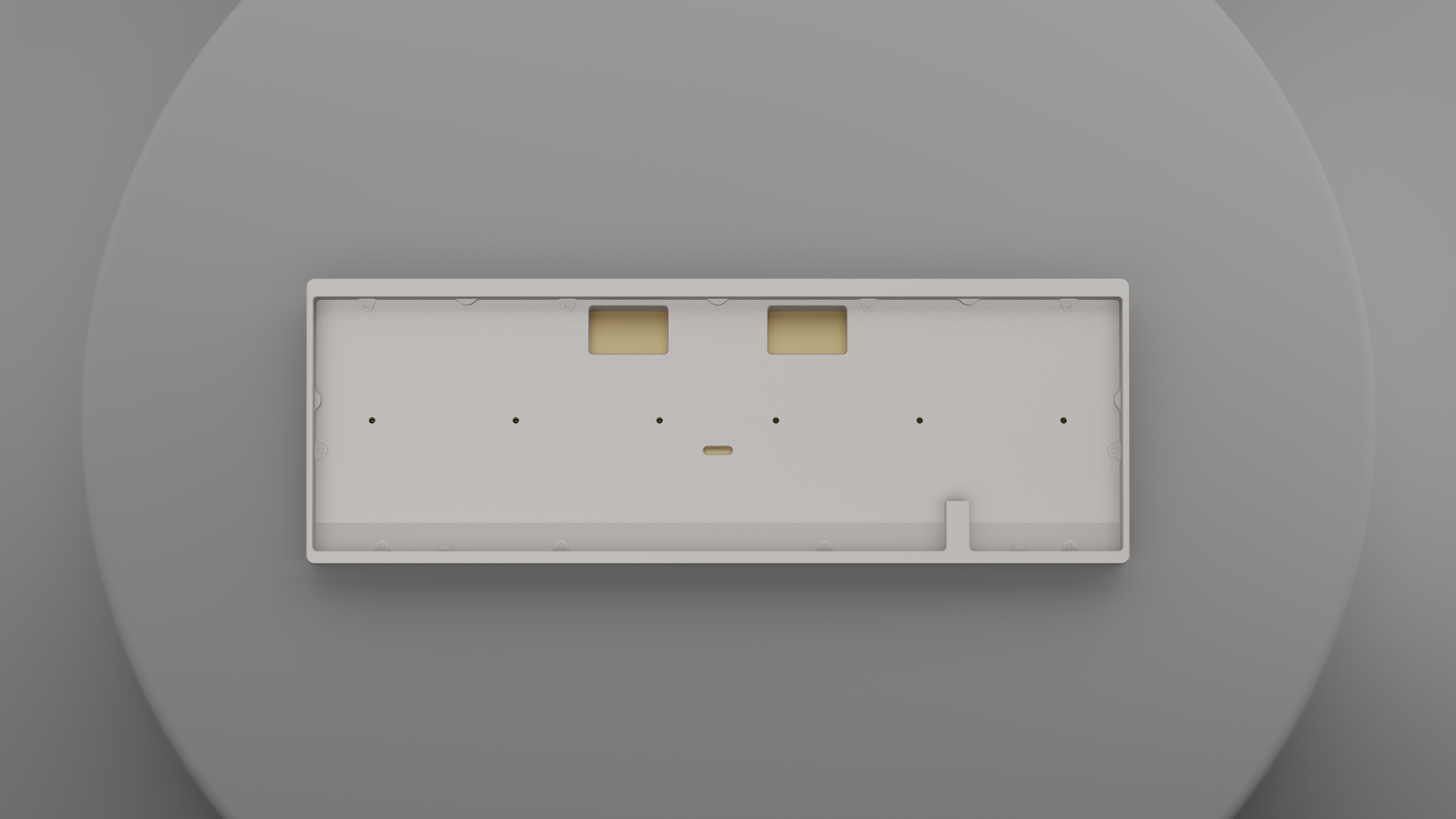 Unibody Case
Our design code is based on minimalism. The Neo 65 features an ultra-slim side bezel that blends seamlessly with any desk setup, regardless of the theme.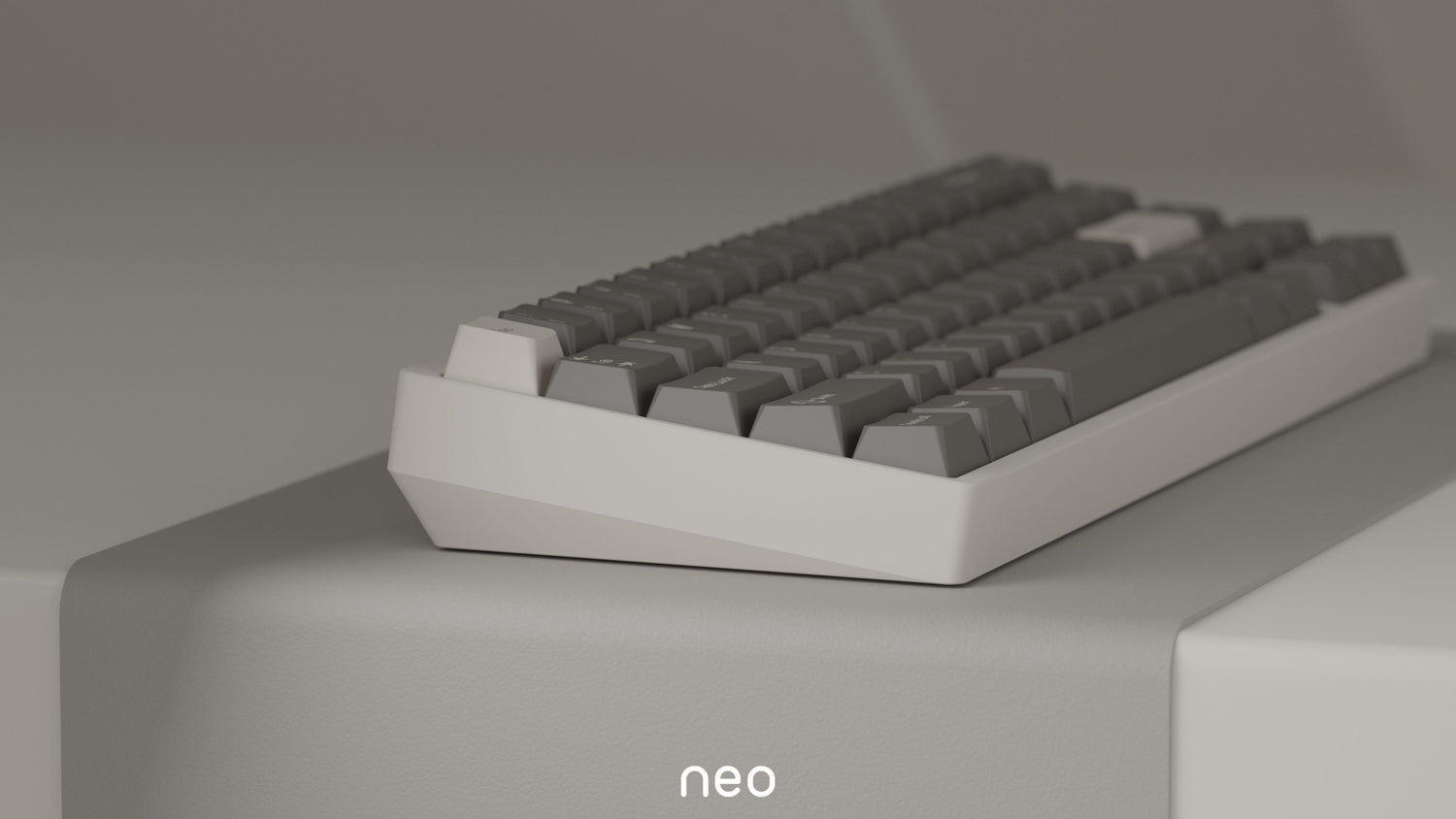 Neat Side Profile
We chose an inward-sloping edge to complement the minimal design on the front. This also makes it easier to pick up the keyboard.
Brass Weight With Orbit Engraved Logo
The name Neo not only refers to the designer but also represents Near Earth Objects.
We opted for the orbit as the logo for the Neo series to symbolize the interconnection and alternation of our products.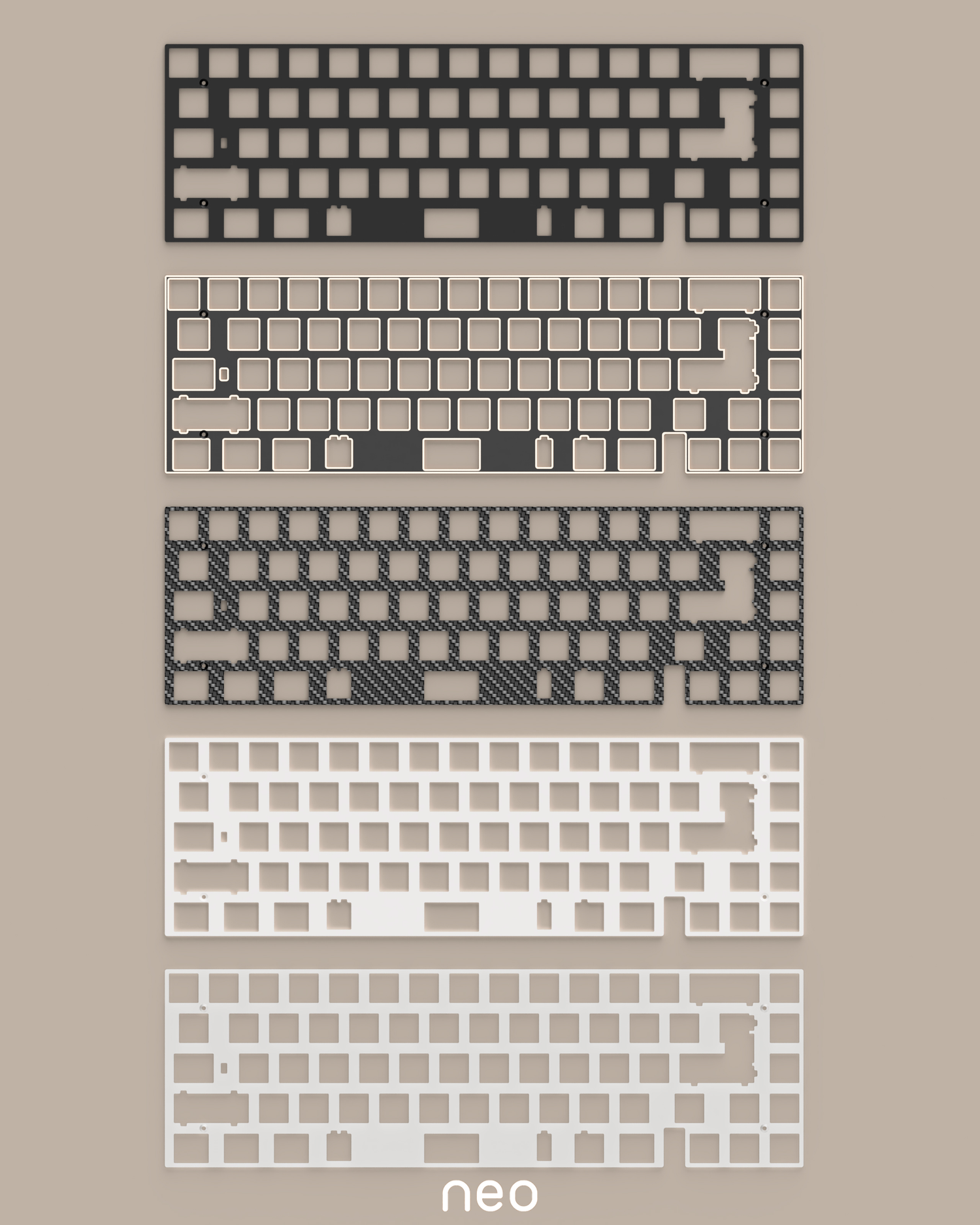 5 Plate Options
Plates with distinctive characteristics:
Aluminum
FR4
Carbon Fiber
POM
PC
Layout for tri-mode and solder PCB
Selective PCBs
1.6mm PCB without flex cut to achieve a louder and fuller sound profile
QMK-based, VIA supported
FAQ
Specifications

Typing angle: 8 degree

Front height: 17mm

Size: 310.35mm * 107.8mm

Weight: 0.97kg (before build)
What does the kit contain?

1. Case

Including one pre-installed external weight
Two 2200 mAh batteries will be installed inside the bottom case for orders with Tri-mode PCBs
Orders with wired PCBs will receive fillers for the battery compartments

2. PCB

PCB of your choice
1x PE sheet
1x PCB foam
Standoffs
Tri-mode PCB comes with a 2.4Ghz dongle

3. Plate of your choice

4.Poron Case Foam

5. Daughterboard (pre-installed)

6. Silicone Gaskets

7. O-ring (50 duro)

8. Rubber feet in grey and black

9. Weight screws in silver and black

10. Daughterboard FPC Cable

11. Free Gifts (Not covered by warranty)

Keyboard carrying case
1x Hex screwdriver
1x Philip screwdriver
1x Keycap & switch puller
1 set of 65% clip in stabilizers
Coiled USB-C cable
Do I need to purchase a Daughterboard?

No, the daughterboard is an extra. The barebones kit comes with one.
Can I build it plateless?

Yes, however, we only recommend building plateless with a solder PCB.
When will I receive my order?

This is an instock item. It will be shipped in 2-3 working days.
Do extra Tri-mode PCBs come with battery?